It's been another hectic day. I'll refer you to last Wednesday. Where is says E was sick, replace with A, and that's pretty much been my day today. He's better though but I can't tell you how happy I was to go to the gym tonight, even if I couldn't be bothered with the exercise part of it. I just needed out of here for a while.
The issue with days like these is that you get nothing done. I barely could write a couple hundred words on my end of module assignment and everything else was a struggle. A tried to push the baby away when I was feeding her, he just wanted to be held or didn't know what he wanted. I felt bad for him because he wasn't well, but it's difficult to attend to everybody's needs one one of your children requires so much attention. Including your own. I ended up not having lunch until 2pm and by then I was starving. On the plus side, because he was unwell I didn't go shopping, which means there is nothing left in the house. Tea and tomato soup is the best I could come up with for dinner. Mind me, it worked out.
On more positive news, Nadal won the Rome masters. VAMOS!!!!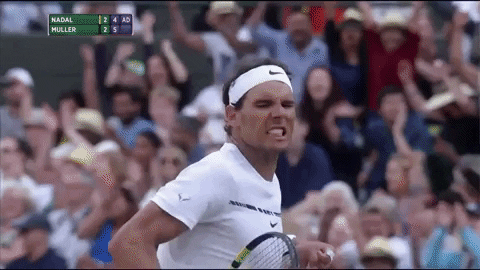 I need to Vamos myself occasionally too.
But there is some nonsense out there. Only yesterday my husband was watching a clip of BBC's this morning talking to Flat Earthers. I don't pay £150 in TV license for the BBC to waste our time with such rubbish. I mean, This Morning is renowned for having some weird people on with strange lifestyles on, but come on… They might as well show a ten minute documentary of paint drying. And after they wonder why people don't pay their TV licenses.
And it was gym day, as I said. Nothing like punching the air to relax you. I did consider just sitting in the car for half an hour but that would be counterproductive. Combat today, weight training tomorrow, step on Wednesday. It's heavy exercise for me, three days in a row, but it becomes impossible the rest of the week. Hoping to make this one a habit too. 21 weeks? Hmmm, will see.