Since I wrote the last post. I know, you expected something else.
I've gone to the gym the past two nights and after that, getting the kids to bed, taking a shower and having my dinner, I simply couldn't muster the energy to blog. It was so hot in that gym.
I've consulted with a friend about my POV dilemma for The Detective and the Ghost and, based on his advice, I have decided to finish the first draft as is and then decide whether to change it or not. As he said, I might figure out at the end why I made these decisions. Either way, I feel energized by this step and I am looking forward continuing the story. I have to admit my writing has been limited these past few days. With Eden here all day I find it difficult to get to do any of my usual activities. The heat doesn't help, but I think today I started to get back into the rhythm of things. I did write, probably about 1300 words, although none on the novel. I am preparing an article for an anthology about generations and privilege, and then I did some freewriting based on an idea I've had for a short story. Still, I'm pleased with this.
I've found two versions of the same writing advice today. One was in Gabriella Campbel's Spanish blog Gabriella Literaria, and the other one is in a list of writing advice by Neil Gaiman which you can see below or, if you follow me on Twitter (@carolinecneale), you'd have seen it there, or you'll have seen it from Neil Gaiman himself. But if you haven't seen it in any of those places, well, here it is: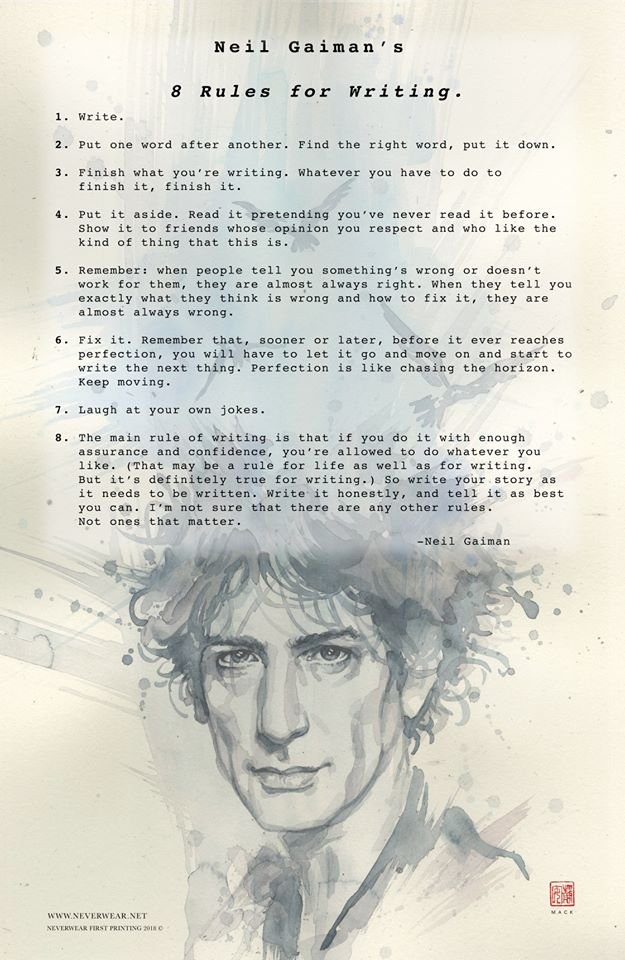 The bottom line is pretty straightforward, in both cases: write and finish.
But I have to say I love number 8 on Neil Gaiman's advice, because that's what I've been saying for a while. Confidence is key, most definitely in life, but also in writing. Talk about your work with conviction and in a firm voice, without stuttering or blushing. Talk about it as if your words were a tank, moving forward, virtually unstoppable. Your work has value. There is somebody out there that will like what you've done and that's who you're writing for (as well as for yourself). Because we're not that unique in the world, if you like what you're writing, somebody else out there does too.
I'm going to go back to my freewriting now and tomorrow I'll pick up the novel again. In the meantime, good night and Good Writing.